Announcing Live Publish for WordPress Availability in AppSource
Published: 2020-04-03 by qualitem-com-user-prod.
A couple of weeks ago we unveiled the ability to add WordPress sites in Live Publish, and today we are pleased to announce the availability of Live Publish for WordPress in Microsoft AppSource.
WordPress is globally known as the most widely used content management system for hosting web sites.  Most people that have their own blog site, host it using the WordPress product.
Live Publish is an enterprise-ready content curation and publishing solution delivering outstanding WordPress productivity benefits. It makes light work of difficult and cumbersome HTML publishing by leveraging the easiest and most familiar content editor on the market, Microsoft Word.
It is the glue between Word and WordPress.
Putting the power of content publishing into the hands of everyday users' means they are empowered to achieve great content publishing results. Live Publish is for all levels of publishing expertise and now supports the largest content publishing platform in the world, WordPress.
No need to learn complex HTML
Automatically optimises image sizes and uploads images
Automatically uploads related attachments and files
No need to use any other editor than Microsoft Word to publish to WordPress
WordPress compatibility
If you are using wordpress.com, you are good to go already!
If you are self-hosting WordPress, you need to configure your environment first. Live Publish requires that the WordPress plugin Jetpack is installed in order to communicate with your site.
Please see the Jetpack support page for instructions on how to set it up.
Discovery services
Our new discovery service automatically presents a list of valid WordPress sites you may connect and publish to.  Once presented, simply select the site to publish to and Live Publish connects you through to you WordPress site.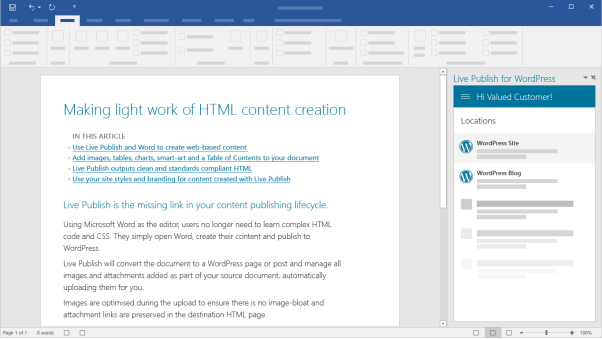 Summary
With Live Publish, your web content will never be stale again and you will enjoy the content creation and publishing process with full WordPress integration.   Our trusted and comprehensive conversion engine delivers peace of mind knowing your content is secure from harm's way. Accelerate your WordPress content publishing needs using our reliable converters to solve complex document conversion scenarios efficiently and quickly.
For more information on Live Publish please refer to the Live Publish website or get the free trial now!