Live Publish is an enterprise-ready content curation and publishing solution capable of delivering outstanding productivity benefits. It makes light work of difficult and cumbersome HTML publishing by leveraging the easiest and most familiar content editor on the market, Microsoft Word.

Live Publish seamlessly integrates with Microsoft Word to deliver unparalleled efficiency and cost-savings when publishing HTML content. Putting the power of content publishing in to the hands of everyday users leave them feeling empowered to achieve great content publishing results. Live Publish is for all levels of publishing expertise and supports publishing to many content delivery systems at the same time.

No need to learn complex HTML
No need to upload images and optimise their sizes for HTML
No need to upload related attachments and files
No need to use any other editor other than Microsoft Word
With Live Publish, your organisational content will never be stale again and your users will enjoy the content creation and publishing process. Our trusted and comprehensive conversion engine delivers peace of mind knowing your content is secure from harm's way. Accelerate your content publishing needs using our reliable converters to solve complex document conversion scenarios efficiently and quickly.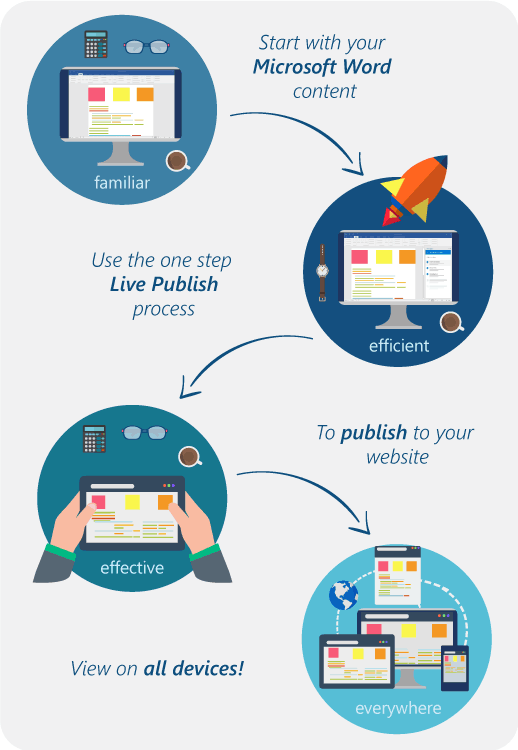 Eight Reasons You Need Live Publish

Familiar Toolset
Using MS Word, users can open, edit and publish HTML content to and from your favourite content management tools.

No learning HTML
Users no longer need to learn complex HTML codes and CSS. Simply open MS Word, create your content and publish to your favourite content management system.

Secure
Feel secure knowing your content is protected via encryption using the highest industry standards and best practise.

Multiple publish providers
There is no need to leave Word Online to manage content with your favourite content management system. Live Publish support many publishing providers including SharePoint/Office 365, WordPress and CentricMinds.

Save time and simplify your work
Uploading images and linked documents is easy with Live Publish. All images are optimised for the web and attachment links are referenced in the HTML automatically for you.

Multiple Formats
Have the flexibility of saving documents to the supported formats (HTML, DOCX, PDF) directly into your favourite content management system, quickly and easily.

Legacy HTML editing
Edit an existing page not originally created with Live Publish using the Open feature and re-publish back to your favourite content management system.

Zero deployment
Loaded via the Microsoft Office Store, no software to deploy and zero footprint.
Qualitem Live Publish Features
HTML content publishers rejoice – Live Publish redefines HTML publishing by leveraging your favourite editing tool, Microsoft Word, as the easiest and most powerful Office-based web publishing tool on the market.
Live Publish is a fully integrated task pane app that allows users to create, change, manage and open HTML publishing pages from SharePoint in to MS Word.
No site limit – it opens and publishes to your publishing provider and these no limit on the number of sites a user can open from and publish to – the user access is purely bound by user-level access permissions.
Personalisation – it supports personalisation of settings so that every user can have unique settings to support their needs. The user profile allows the user to manage settings like Name and default Publishing Provider.
Publish function – create and maintain HTML content using MS Word.
Open function – supports editing of legacy web pages and re-publishing to their web environment.
Uploads images and attachments.
Metadata management – Our document panel support the updating or metadata right within MS Word. Metadata is saved once the document is published.
Available, get it now online!