Migrating InfoPath form content to SharePoint Online Modern Pages
Published: 2020-03-16 by qualitem-com-user-prod.
If you are reading this hoping to find a silver bullet to transitioning or migrate your InfoPath forms to modern SharePoint, apologies but there is no silver bullet.
However, the question of how to address legacy forms and their associated data is one that is covered in this article.
If you are moving or have moved to Office 365, you would have heard that InfoPath is now officially depreciated even though it may still run. Organizations' InfoPath forms are being migrated to various replacement platforms. There are a variety of options from 3rd party tools, PowerApps and SPFx custom web parts.
But what about the legacy form content, how will you view these moving forward and how will the content be migrated to SharePoint Online if it is not able to be fully viewed and reference?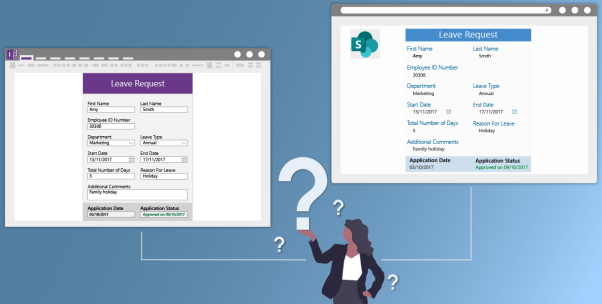 Legacy InfoPath forms have historical value
You may need to keep a record of these submitted forms for historical purposes. If the forms were completed to fulfil on a business process, please enquire with your compliance officer as to whether they are company records and need to be kept for a period of time. The retention policy for this type of data will be different for each organization so it would be difficult for me to be prescriptive on this point.
If you need to refer to the old InfoPath form data, the workflow history and task information, we have a solution that converts the form and associated data to a SharePoint Modern page report. The report information is not reliant on InfoPath form services; this creates a snapshot in time, a nicely formatted modern page of the legacy form information. This future proofs the legacy form content as modern pages will be supported well into the future and well beyond InfoPath forms services being deprecated.
For more information on how to convert your InfoPath forms to modern page reports, please contact us at sales @ Qualitem dot com.