DataSync keeps Employee details fresh in Active Directory
Published: 2020-03-12 by qualitem-com-user-prod.
Active Directory (AD) is a key system for most organizations.  It is important that user information from key systems like HR, are kept current in AD.   User moves and changes occur daily and manually keeping track of these changes or even creating service desk tickets to maintain these changes is time consuming and susceptible to errors.
Qualitem's DataSync product maintains employee attribute changes from your HR system to Active Directory using our automated job service.  Changes made from within the HR system – your source of truth – are automatically synchronized with Active Directory to keep employee details current.  Through customised business rules, DataSync extracts the employee attributes and associated data and carefully and securely updates the user's Active Directory profile.   This ensures that the employee information is kept up-to-date to the centralized authentication directory.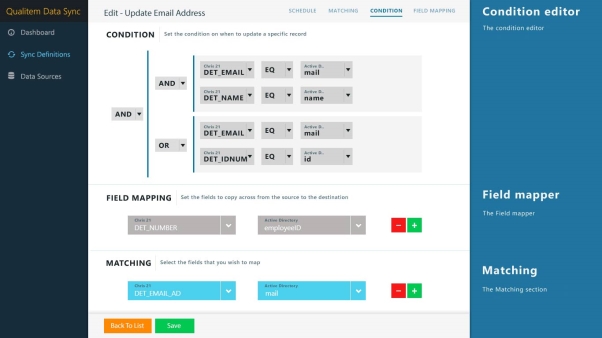 DataSync is a flexible and configurable turnkey solution that puts the power in the hands of the IT staff to automate this processes.   IT staff can update and re-configured job definitions to ensure any new employee attributes or position information is carefully updated to the users AD account.
DataSync has a report mode which is able to simulate all synchronization jobs before actually updating the user account, this allows for all jobs to be scrutinised carefully before the updates are applied.
Our detailed web-based dashboard gives IT staff flexibility and full transparency on the update jobs running, and any failed jobs can be remediated and re-run manually or kicked off again during the next scheduled run.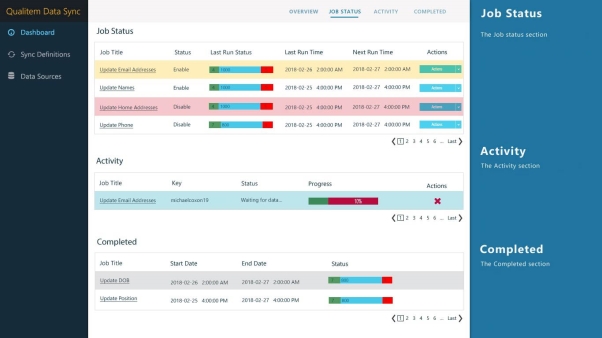 If you require your employee information from your HR system to be in synchronized with Active Directory, consider using Qualitem DataSync to automate the process. Please contact us for more information at sales @ qualitem.com.