What is Qualitem Live Publish?
Qualitem Live Publish makes page publishing a breeze. With the ease of using Microsoft Word, content editors can add text, photos and videos, format everything as required, and publish to SharePoint Publishing Pages.
Qualitem Live Publisher manages content in SharePoint (including Office 365) from within Microsoft Word using one easy-to-use interface, and was designed to work seamlessly with SharePoint, to deliver an instantly familiar system, supporting the web content publishing process for all levels of expertise.
Qualitem Live Publish is a Word app that allows you to publish Word content to multiple SharePoint endpoints as either, HTML, DOCX or PDF format.
Simply open a new word document, select the Live Publish app from the Word ribbon, type your text, style it, add images and tables, and publish out as HTML, DOCX and/or PDF to our nominated SharePoint sites.
Qualitem Live Publisher makes the process of creating SharePoint publishing pages simple and eliminates the need for content publishers to learn HTML: simply build your web page in Microsoft Word and publish it to SharePoint.
Qualitem Live Publisher can install into either Office 365 or SharePoint Server and will support your varied SharePoint publishing endpoints.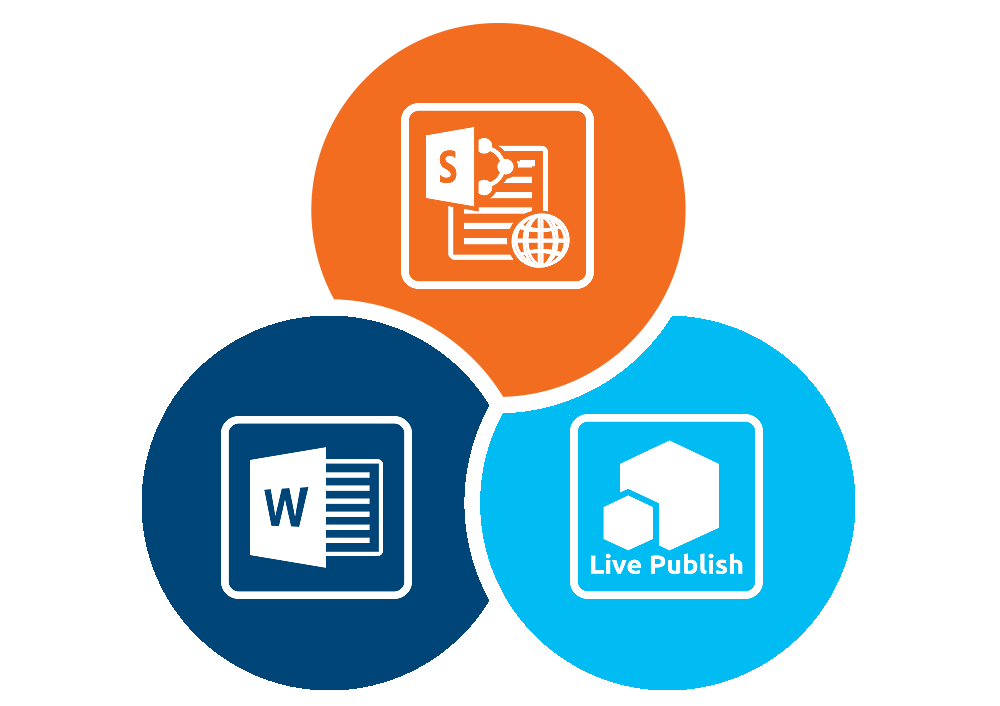 Qualitem Live Publish – Benefits
Qualitem Live Publish will simplify the process of creating and editing web content in SharePoint.
Using a familiar toolset like MS Word, users are able to open, edit and publish HTML content to and from SharePoint directly within MS Word via the Tool Pane application.
Using MS Word as the editor, users no longer need to learn complex HTML codes and CSS. They simply open MS Word, create their content and publish to SharePoint or Office 365. Live Publish will convert the MS Word document in a SharePoint publishing page.
As a fully integrated MS Word Task Pane App, Qualitem Live Publish offers the convenience of being open in MS Word as the user is editing the publishing page document. There is no need to leave MS Word to manage this content in SharePoint or Office 365; all management and publishing features are available via the Qualitem Live Publish Task Pane App.
The user can also open another publishing page whilst editing the first page. The subsequent pages load in a new instance of MS Word, preserving all web content within the MS Word documents. Qualitem Live Publish automatically loads the Task Pane App in the newly selected and opened publishing page.
HTML pages are not the only supported file formats. Given MS Word is the edit, the user is able to save the native DOCX file directly into SharePoint. Qualitem Live Publish also supports the saving of the document as PDF format. This gives the user the flexibility of saving any of the supported formats (HTML, DOCX, PDF) directly into SharePoint and Office 365, quickly and easily.
Qualitem Live Publish – Features
Qualitem Live Publish is a fully integrated task pane app that allows users to create, change, manage and open HTML publishing pages from SharePoint in to MS Word.
It opens and publishes to SharePoint Server and Office 365 and these no limit on the number of sites a user can open from and publish to – the user access is purely bound by user-level access permissions.
Qualitem Live Publish supports personalisation of settings so that every user can have unique settings to support their needs. The user profile allows the user to manage settings like Name and default SharePoint Provider.
The Publish function allows users to create and maintain HTML content using MS Word.
The Open function allows the user to find a publishing file within their required SharePoint or Office 365 environment and opens the selected page in to another instance of MS Word.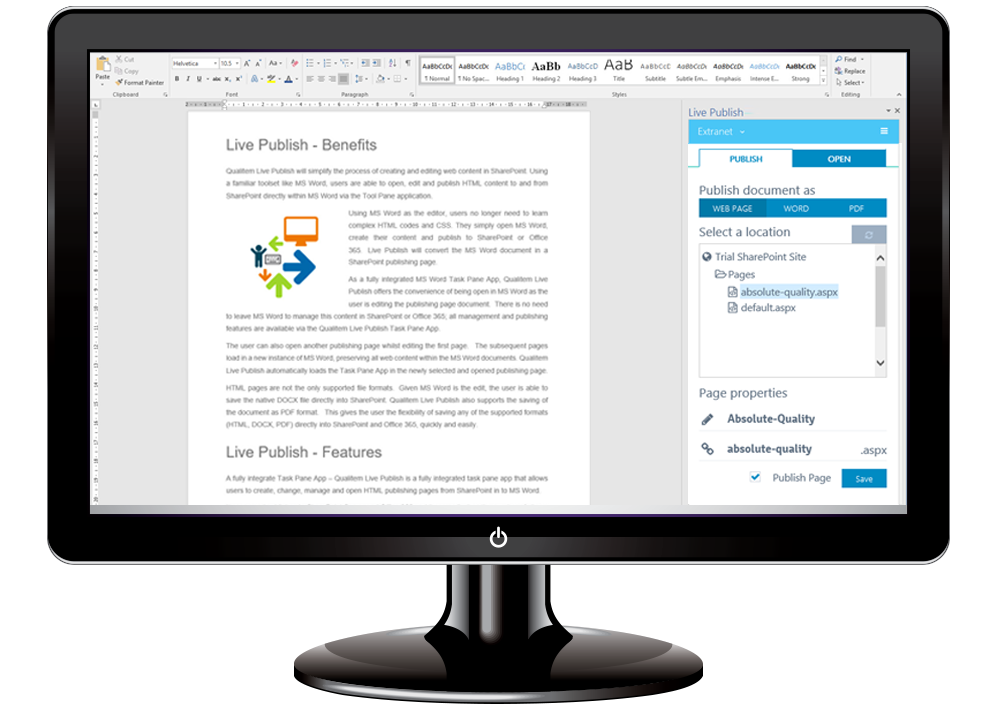 Available, get it now online!