Content Service Add-ins for SharePoint & Office 365 – part 1
Published: 2017-11-22 by qualitem-com-user-prod.
This is part one of a three part series of how new add-ins (formerly apps) can improve content services in SharePoint & Office 365.
Content Services
There is a new kid on the block; gone are days of talking about Enterprise Content Management, it is all about Content Services now!
Content Services is a very broad term that covers the full spectrum of managing unstructured content.   It covers the strategy, platforms and methodologies of Enterprise Content Management.   Gartner characterise Content Services as "a long overdue and continuous evolution" of ECM (http://blogs.gartner.com/hanns-koehler-kruener/questions-answers-content-services/).   I agree with where they are going especially based on their broader view of Content Services to include Enterprise File Sync and Share (EFSS) cloud providers.
SharePoint and Office 365 – the evolution of ECM to Content Services
SharePoint is all about delivering a strong platform for Content Services.  Let me quickly take you back to SharePoint 2007/2010/2013 where Content Services were represented as the SharePoint wheel.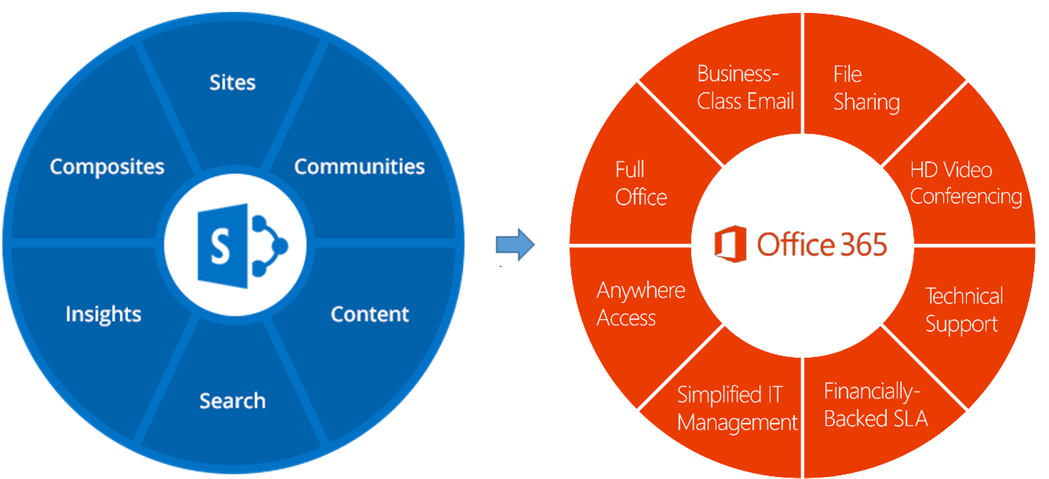 This evolved with SharePoint Online and Office 365 and the latter has broadened the Content Services offering greatly, especially with the likes of OneDrive for Business, Skype for Business and the entire Office 365 product set.
In his article (https://blogs.office.com/en-us/2017/04/07/sharepoint-evaluated-as-a-leader-in-latest-edition-of-the-forrester-wave-enterprise-content-management/), Chris McNulty, senior product manager on the SharePoint team, talks about Microsoft Content Services offerings much more holistically.   However, I'd like to focus on the create components of what he said because I think this is so vital to driving user adoption of the technology.
"Content services is as much about document creation as consumption. In many cases, content has become less about static images and reports, and more about dynamic documents that are created and edited many times in their lifespans. This trend is something we call content velocity, where the content picks up velocity as it is created, edited and reused, becoming more valuable, instead of becoming a dormant archive of little value, as was traditionally the case. We view this as an evergreen cycle of authoring, collaboration, control and reuse."
If we consider the content velocity principle, the creation and maintenance of content is of paramount importance; after all, this is what the user experiences when they use SharePoint.   For me, it all starts with the create experience, and giving the user the best and easiest experience to create content is the focus of this article.
This article relates how our products help deliver an easier and more pleasant user experience and is an overview of how to more easily create and manage content in SharePoint (both SharePoint Online and on-premises).
Creating Web-based content (HTML) using MS Word
Much of the content created and uploaded to SharePoint actually starts by a user editing a Word document.  Whether this is using Word to draft the content to cut-n-paste in to SharePoint, or to save the document as is in SharePoint.
When creating web content, there is a lot of value adding we can do because this is a difficult process.    I'm not suggesting that you use the Word generated HTML to build your page, after all, you would still need to cut-n-paste the HTML in to the content page and you would also need to upload any images separately beforehand and reference these pages in your HTML.  What I am suggesting is that with add-ins like Live Publish, achieving a content page is a seamless experience. Live Publish will do much of the heavy lifting, for example, it will:
Convert all text, headings, tables, bullet points, numbering automatically.
Support things like SmartArt and WordArt and convert these into images automatically and embed the links within your content.
Strip out the embedded images and upload these to SharePoint for you. This is usually a separate task that is required before the text is entered as you need to reference the images in your content.
In the process of uploaded the embedded images, it will optimise the images so they are not uploaded as very large files.
Upload all attachments within your Word file (like PDFs) and link to these attachments.
Create a table of contents and link to the headings allowing you to jump straight to the sections from the table of contents at the top of the document.
In conclusion, this article is part one of a three part series covering the Content Services add-ins provided by Qualitem.   These can be found on our web site (https://www.qualitem.com/livepublish/) and in the Office Store (https://appsource.microsoft.com/en-us/marketplace/apps?page=1&src=office&search=qualitem).
During late November and December 2017, we will be delivering an Office 365 and SharePoint solutions showcase of our add-ins currently available for SharePoint Online and On-premises in Perth and Melbourne respectively.
Please join us for an exclusive event where I will present our suite of Office 365 and SharePoint Add-ins available from the Office/SharePoint Store.  During this presentation, I will explain how to build solutions to integrate with the Office 365, demonstrate these integration models and showcase working solutions to improve Content Services with SharePoint and Office 365.
Please register your interest for these events; here are the dates and Australian cities will be visiting:
We also plan to be in the U.S.A. (Texas) in May 2018 for the SharePoint TechFest conference (http://www.sharepointtechfest.com/) and we will be visiting Dallas, Houston, Austin and San Antonio with separate showcase events.
References