Related Items
The Qualitem Related Items (QRI) for SharePoint® Foundation is a flexible way to relate multiple files or documents to an item.

If you have multiple list items or documents that relate to each other in one form or another, the solution is provided by Qualitem Related Items.
QRI adds significant value to Microsoft SharePoint® Foundation and raises the bar to a new level for industry content Managment system and Publishing products.
SharePoint® Foundation customers now have the opportunity to relate items together within SharePoint® or relate external links to SharePoint® list and library content.
Benefits
Relating List content with internal content and external links.
Relating Document content with internal content and external links.
Click-through support for related items to take you directly to the related content.
Linking unrelated content of different types. Similar to an extension of an item attachment, without the source item being attached. The link is provided via one of the support URLs.
Features
SharePoint does not contain a Related Items feature, this is unique to Qualitem CMS. The following list outlines the Qualitem Related Items Feature.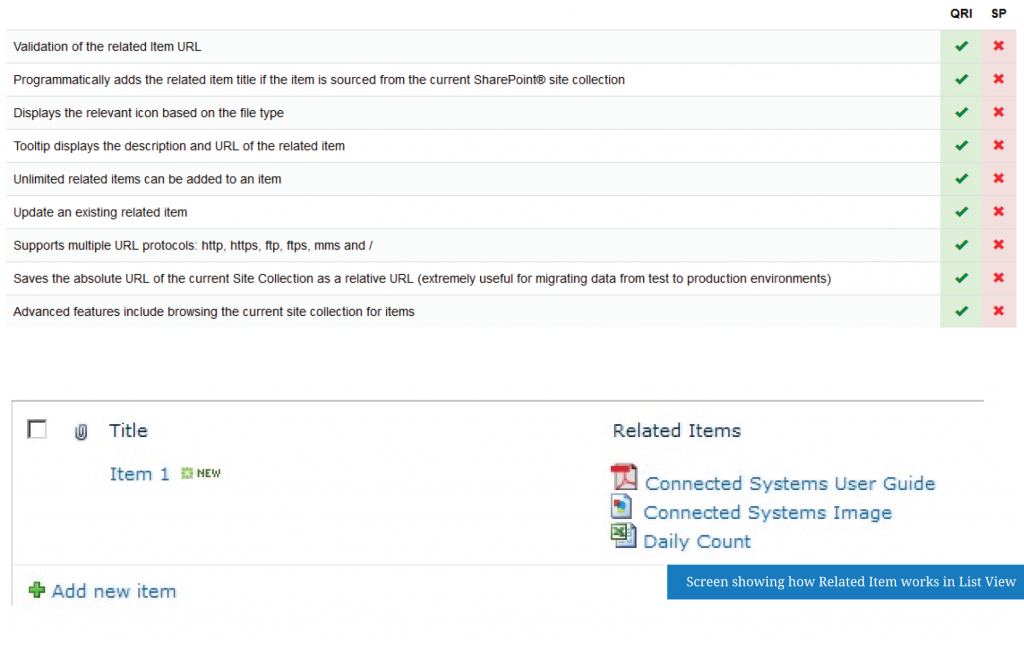 Product brochure:
To download the product brochure covering all the features of Qualitem Related Items, select the following Link.
Available, get it now online!