Notifications
The Qualitem Notifications for SharePoint® Foundation is a flexible notification and email service.

Notifications can be used for a range of purposes, from sending out reminders when important documents are due for review, to monitoring when contracts expire and relevant stakeholders need to be notified.
Content can now be proactively reviewed periodically with the help of Notifications. Notifications runs on the built-in SharePoint® Timer Service, enabling it to be monitored and tracked like any other SharePoint® task. An easy to use configuration screen is provided within Central Administration to modify the reminder schedule.
A comprehensive reporting features supports the ability to see all notifications set scross your site lists and
libraries, as well as across the entire site collection; making it easy to manage the reviewing of content. Notifications adds significant value to Microsoft SharePoint® Foundation and raises the bar to a new level for industry Content Management Systems.
SharePoint® Foundation customers now have the opportunity to build and manage rich web content with incorporated publishing capability for managing the approval of web content. With out easy install process, Notifications is installed quickly and easily across one or many site collections to give you the power of full web content management on the SharePoint® Foundation platform.
Benefits
Manage upcoming deadlines and notify users post, prior or on the due date.
Set up an unlimited number of individual notifications on a single list or library.
Configure multiple due dates and notification on the one list item.
Track important documents due for renewal.
Full SharePoint® Ribbon support.
Configure three separate email notifications for pre-due date, due date and post due date notifications.
Easy installation.
Import list data into the email notifications.
Track the status of the notification email via 3 status indicators.
Use People picker to select SharePoint® users, group or distribution groups.
Sort, group and filter items by the due date to group similar items.
View the due date reminder configuration on the standards view/edit forms.
Comprehensive site and site collection report of all notifications set within the SharePoint® environment.
Features
The following feature comparison table shows the difference between the Qualitem Notifications and native SharePoint® 2010.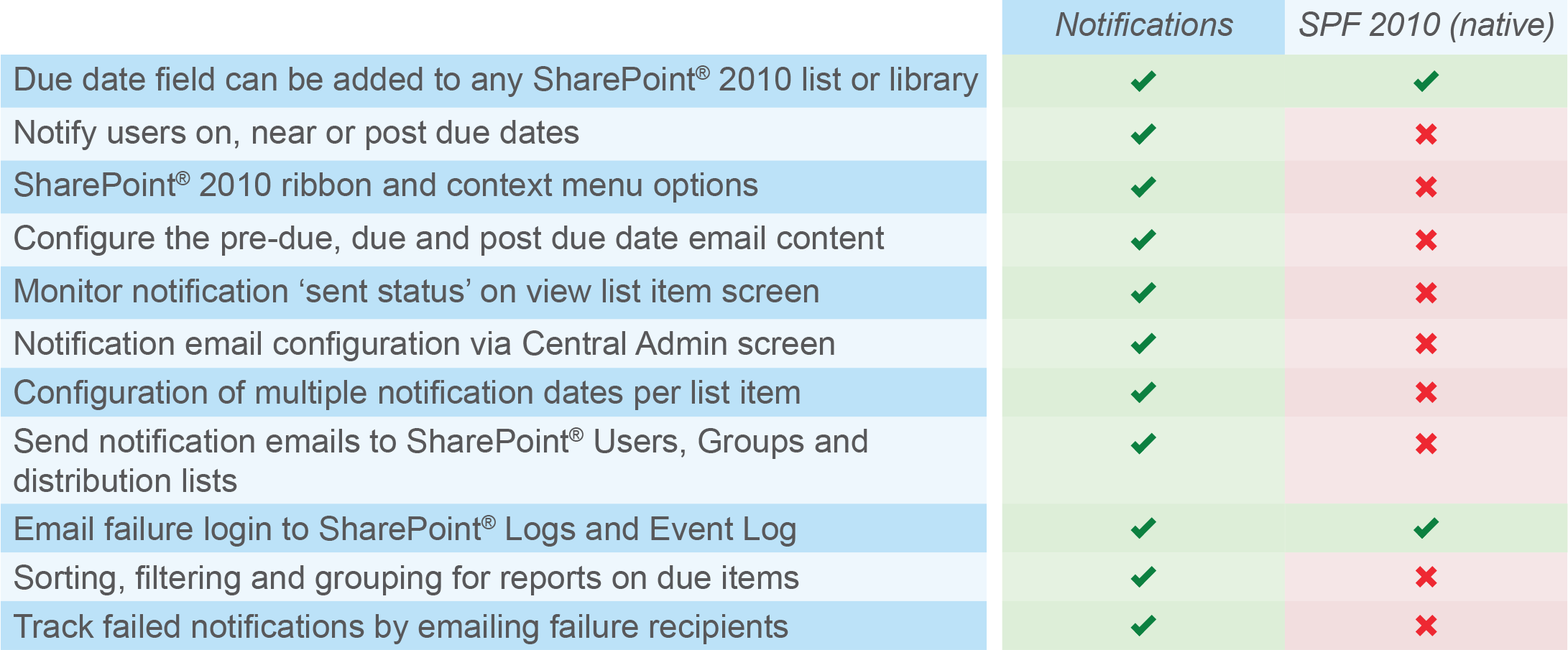 Product brochure:
To download the product brochure covering all the features of Qualitem Feeds, select the following Link.
Available, get it now online!