Navigation
The Qualitem Navigation overcomes the SharePoint® limitation of only being able to configure two levels of Top-level navigation.

This feature works seamlessly with SharePoint® to provide an integrated top-level, cross-site navigation system that is easy to use and flexible.
Navigation allows SharePoint® Foundation users to set top level and side navigation for the site, any which way they would like; up to 10 levels on the top level. This flexible design allows internal and external links to be added all within the same navigation structure.
Support for the footer site maps is now fully integrated into the navigation editor and able to be viewed with some simple Master Page changes. Navigation adds significant value to Microsoft SharePoint® Foundation and raises the bar to a new level for industry Content Management System and Publishing products.
SharePoint® Foundation customers now have the opportunity to build and manage rich custom navigation and with our easy install process, Navigation is installed quickly and easily across one or many site collections to give you the power of custom navigation on the SharePoint® Foundation platform.
Benefits
Supporting rich and flexible top level navigation (cross-site) with easy-to-use administration tools.
 Supporting up to 10 levels of nested menus.
 Maintaining Side Navigation with show/hide support.
Supporting the "visible" setting for content pages (when integrated with Publishing Pages).
Integrated Footer site maps available using custom Master Pages.
Features
The following feature comparison table shows the difference between the Qualitem Navigation, SharePoint® Foundation 2010 (SPF 2010) and SharePoint® 2010's Publishing Feature (SPS 2010 PF).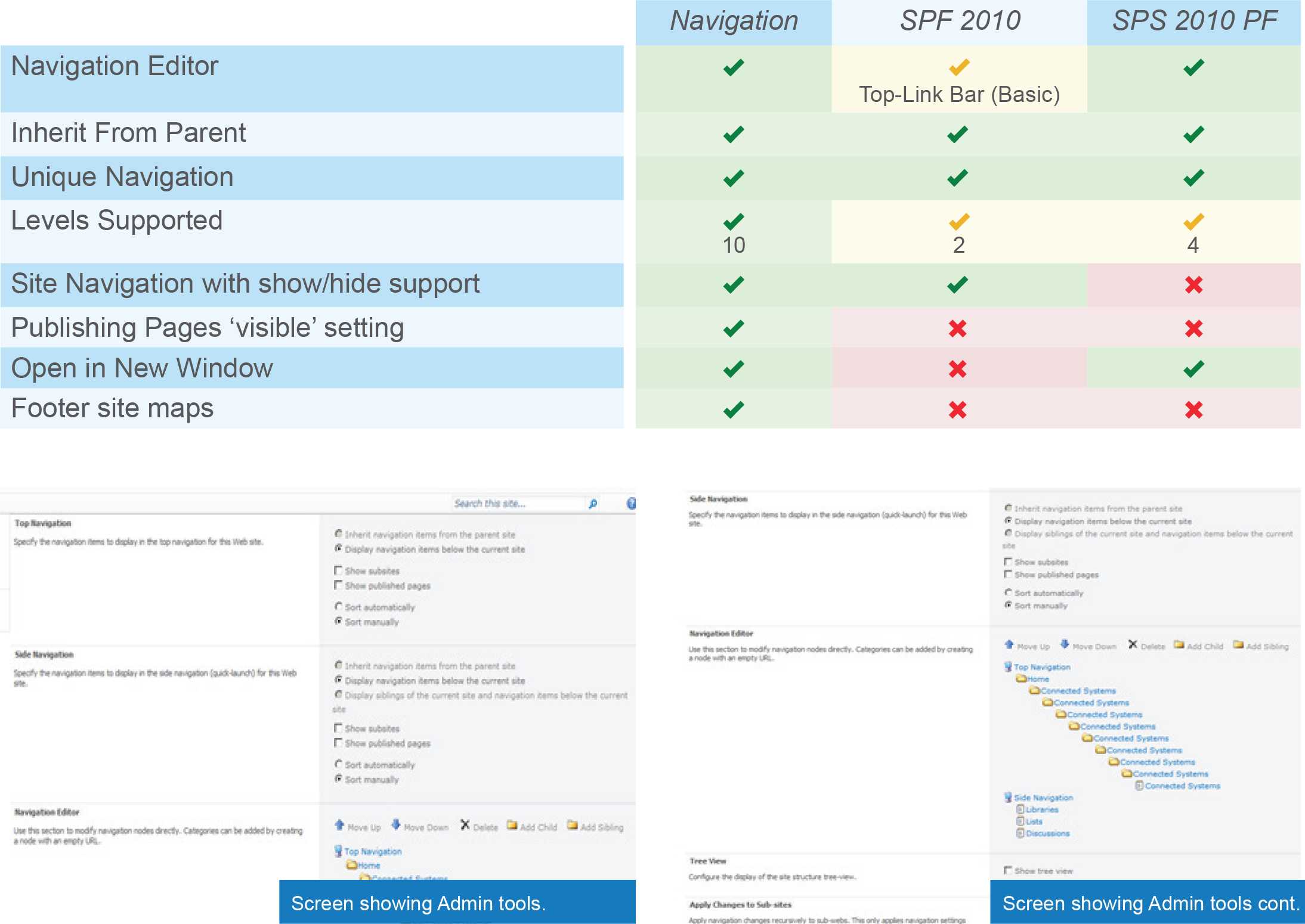 Product brochure:
To download the product brochure covering all the features of Qualitem Navigation, select the following Link.
Available, get it now online!